When is there ever a day that isn't perfect to quote Mean Girls, but October 3rd is a particularly noteworthy date for the 2004 hit movie and its band of dedicated fans (myself included!). For those who don't know, October 3rd was the day when things started to heat up between Aaron Samuels and Cady. He asked her what day it was, and she replied, "It's October 3rd."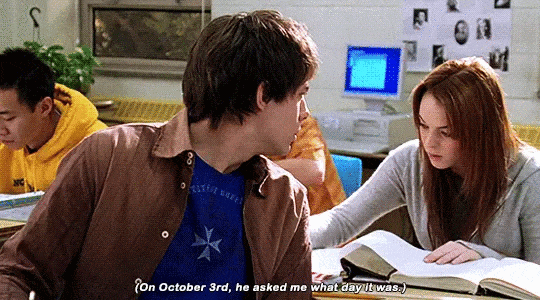 Most fans celebrate this occasion — unofficially known as Mean Girls Day — on social media. Here are 10 Mean Girls inspired ways to celebrate October 3rd. 
Wear pink, even though it's not Wednesday. And yes, we are wearing pink in the office today!
Make your face smell like peppermint.
Ask yourself, is butter a carb?
Make sure you're in the right school gym.
Bake a cake filled with rainbows and smiles and everyone will eat and be happy.
Start a toaster strudel Twitter nostalgia campaign.
Spike your mocktail because you're not a regular mom, you're a cool mom.
Wear sweatpants AND a vest.
Eat as many cheese fries as you want. There is no limit to how many cheese fries you can have. THE LIMIT DOES NOT EXIST.
Nver give up trying to make fetch happen – despite what your so-called friends say.