O'Brien Media is now an accredited Living Wage Employer
We're pleased to announce that we have been accredited as a Living Wage Employer. Our Living Wage commitment will see everyone working at O'Brien Media receive a minimum hourly wage of £9.00 in the UK or £10.55 in London. Both rates are significantly higher than the government minimum for over 25s, which currently stands at £8.21 per hour (as of 20th September 2019).
In Swindon, and the wider South West area, over a fifth of all jobs (21%) pay less than the real Living Wage – that's around 463,000 jobs that are paying less than the amount people need to live on. Despite this, we are committed to paying our team members the real Living Wage and deliver a fair day's pay for a hard day's work.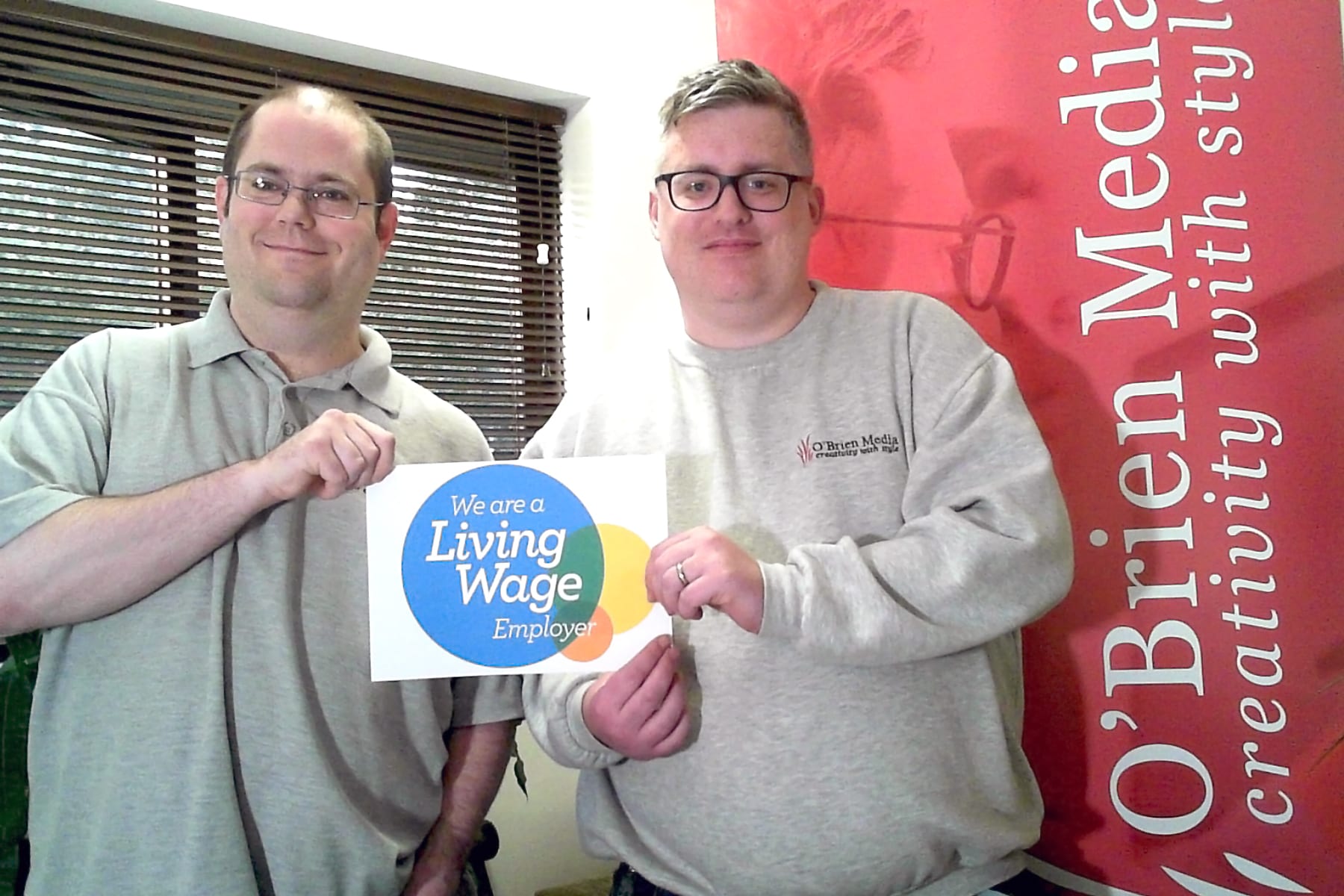 We're always looking for people who are enthusiastic about technology and have a creative approach toward helping others. We are building a diverse team of people working with open-source software to find solutions to interesting problems faced by businesses.
We've hired people in all ranges of expertise — from those with no formal academic qualifications or those from fields entirely outside of technology to people with advanced degrees. Qualities such as methodical thinking and knowledge sharing are just as important to us as education or experience.
Current vacancies
While we are a very small business in the grand scheme of things we felt it was important to become a Living Wage employer to ensure that our dedicated team are paid a fair wage for their hard work and dedication to our clients. As we grow, being a Living Wage employer will help us to hire, and keep, talented team members and help us maintain the high standards that our clients require of us.
Katherine Chapman, Director, Living Wage Foundation said: "We're delighted that O'Brien Media has joined the movement of over 5,000 responsible employers across the UK who voluntarily commit to go further than the government minimum to make sure all their staff earn enough to live on.
"They join thousands of small businesses, as well as household names such as IKEA, Heathrow Airport, Barclays, Chelsea and Everton Football Clubs and many more. These businesses recognise that paying the real Living Wage is the mark of a responsible employer and they, like O'Brien Media, believe that a hard day's work deserves a fair day's pay."
The Living Wage
What about the Government's national living wage?
Press & Media Pack
The Living Wage
The real Living Wage is the only rate calculated according to what people need to make ends meet. It provides a voluntary benchmark for employers that choose to take a stand by ensuring their staff earn a wage that meets the costs and pressures they face in their everyday lives. 
The UK Living Wage is currently £9.00 per hour. There is a separate London Living Wage rate of £10.55 per hour to reflect the higher costs of transport, childcare and housing in the capital. These figures are calculated annually by the Resolution Foundation and overseen by the Living Wage Commission, based on the best available evidence on living standards in London and the UK.
The Living Wage Foundation is the organisation at the heart of the movement of businesses, organisations and individuals who campaign for the simple idea that a hard day's work deserves a fair day's pay. The Living Wage Foundation receives guidance and advice from the Living Wage Advisory Council. The Foundation is supported by our principal partners: Aviva; IKEA; Joseph Rowntree Foundation; KPMG; Linklaters; Nationwide; Nestle; Resolution Foundation; Oxfam; Trust for London; People's Health Trust; and Queen Mary University of London.
What about the Government's national living wage?
Press & Media Pack