Upgraded to WordPress 5.0 but prefer to stick with the familiar Classic Editor? No problem! Support for the Classic Editor plugin will remain in WordPress through 2022.
The Classic Editor plugin restores the previous WordPress editor and the Edit Post screen. It lets you keep using plugins that extend it, add old-style meta boxes, or otherwise depend on the previous editor. To install, visit your plugins page and click the "Install Now" button next to "Classic Editor". After the plugin finishes installing, click "Activate". That's it!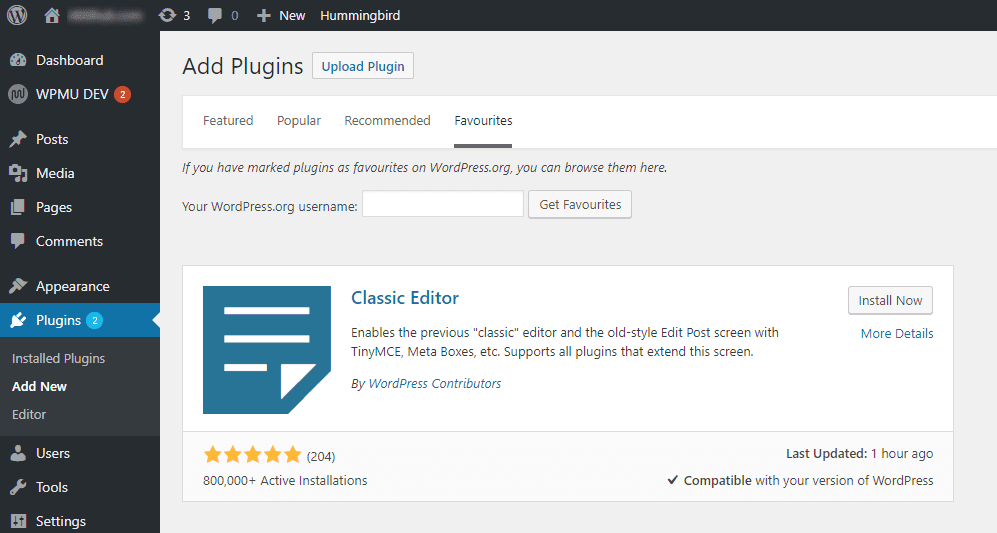 Classic Editor is an official plugin maintained by the WordPress team that restores the previous ("classic") WordPress editor and the "Edit Post" screen. It makes it possible to use plugins that extend that screen, add old-style meta boxes, or otherwise depend on the previous editor. By default, this plugin hides all functionality available in the new Block Editor ("Gutenberg").
At a glance, the Classic Editor plugin adds the following functionality:
Administrators can select the default editor for all users.
Administrators can allow users to change their default editor.
When allowed, the users can choose which editor to use for each post.
Each post opens in the last editor used regardless of who edited it last. This is important for maintaining a consistent experience when editing content.
Elementor or Elementor Pro Users
If you've upgraded to WordPress 5.0, and use Elementor Pro – install the Classic Editor plugin, then clear the browser cache for the site you're working on – we've seen a number of errors with loading content into Elementor that have been resolved using the above method.
The Elementor team provide support for Elementor Pro users – if you log in at https://my.elementor.com/support then you can submit a support request to the Elementor developers.
Need help with your site? Ask away!