Welcome to the first in a series of Small Business Spotlight posts, highlighting the hard work of amazingly talented small and micro retail and ecommerce business owners.
We're not just blogging about our clients this time. These are posts about businesses we have found via social media and where one or more of our team made a purchase that led to a "WOW!" moment.
So prepare to read some good news for a change as we dive right in with the first Small Business Spotlight – on The Owl & The Dragon!
I (Chris, Head of Design & Development at O'Brien Media) like to shop on Esty and other marketplaces for handmade and unusual gifts and for cat toys for my resident office companion, Neutrino, our Head of Design Purrrfection who regularly makes appearances on our social media feeds.
I placed an order for a hand-sewn catnip mouse, after seeing a post on Twitter. The little brown fellow with felt ears and a twisted thread tale was a purrrfect gift for Neutrino so I bought it from the Etsy shop of The Owl & The Dragon.
A few days passed and a delightfully bright and cheery padded envelope landed on the doormat, along with a bank statement and a couple of other plain padded envelopes from other purchases. As always I took the post up to my office to open it so that anything addresses to O'Brien Media could be properly handled and anything else put aside to deal with when I wasn't "on the clock".
Obviously, the first thing I opened was the delightfully decorated envelope – I just had to see what was inside, and I was greeted by a  very person and detailed handwritten note and a gift-wrapped triangle – which I instantly knew was the mouse toy I'd ordered from the Etsy shop of The Owl & The Dragon but couldn't wait to find out what was in the colourful package.
I'm not one for ripping off wrapping paper so I carefully opened the little gift and was taken aback by the quality of the little catnip mouse. Forget supermarket and chain store toys, if you want to treat your pet go to someone like The Owl & The Dragon and see what they have because the attention to detail – little sewn on eyes, the twisted thread tail, and the perfectly sized mouse for an active cat to play with was just amazing.
I reached out to Amanda at The Owl & The Dragon and asked if she could tell me a bit more about her business so that I could write this blog post so at this point, I'll hand over to Amanda to let you know more about The Owl & The Dragon and their approach to adding that "WOW!" factor to each and every customer order.
In the words of Amanda at The Owl & The Dragon
"The Owl & The Dragon Shop was opened in 2015 by my mum and me. We sell a very eclectic collection of things that we are always adding to, partly because we love making things all the time and refuse to limit ourselves to just one product, and we are constantly coming up with new ideas!"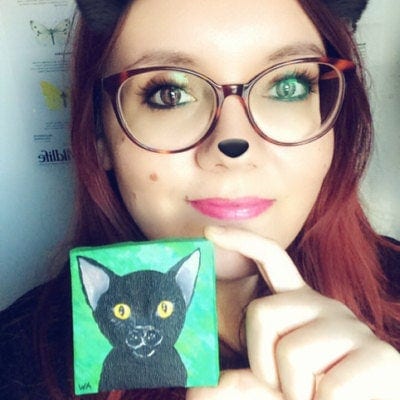 "This is why a lot of the things we sell are one off, "limited edition" things, because we love things that are unique and handmade, and by the time we've finished making one thing, chances are, we've started a brand new project! It keeps it exciting."
"My mum makes most of the hand-sewn items like the rag dolls, face masks, catnip mice, sleep-masks, etc. She's a sewing machine genius! Personally, I can't get the hang of it. So I provide the paintings and the doll jewellery. I love to paint, especially trees and animals!"
"We are passionate about our shop. It's the first thing I think of in the morning, and the last thing I deal with at night! I like attention to detail, and if it means making the customer smile for a moment when they get their order, I'll go the extra mile to do that. I think packaging is hugely important! It would be easy to pop the product in a brown envelope, stick a label on it, and be done. But why not jazz it up a little? You might as well. Life is too short for boring packages! I want people to feel like they're opening a lovely present every time they receive post from The Owl & The Dragon! Parcels are so personal; every experience should be fun!"
"I'd also like to mention that we often use recycled packaging. We want to reduce our impact on the environment as much as we possibly can and encourage our customers to do the same, be it by reusing packaging or recycling it."
Visit The Owl & The Dragon Today