Our content management system of choice, WordPress, now powers over a third of the top 10 million sites on the web according to W3Techs. WordPress' market share has been growing steadily over the past few years, going from 29.9% just one year ago to 33.4% now.
Stats in review
In 2005, WordPress were celebrating 50,000 downloads. Six years later, in January 2011, WordPress was powering 13.1% of websites. And now, early in 2019, WordPress is the content management system used to power 33.4% of sites. The latest release of WordPress has already been downloaded close to 14 million times, and it was only released on the 21st of February!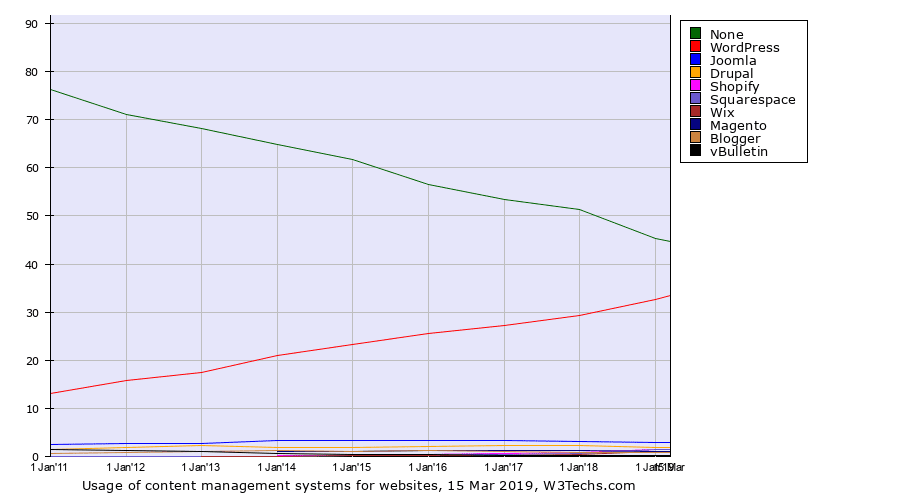 Our CMS of choice
Over the years WordPress has become our CMS (content management system) of choice for more and more of the website design projects we work on here at O'Brien Media. As various businesses use WordPress, the variety of WordPress sites grows. Large enterprise businesses all the way down to small local businesses: we've used WordPress to power their sites.
From Drupal to WordPress at O'Brien Media
A few years ago, when Drupal 8 was announced and it became obvious that support for Drupal 7 would end soon we started to switch a lot of our customers' websites from Drupal to WordPress, which has given a greater amount of control over their websites to our customers.
Thinking of switching to WordPress?
Get in touch to discuss your switch from Drupal to WordPress (or from any other content management system to WordPress)
Need help with your site? Ask away!