Here is a quick rundown of some of the latest changes in the world of social media!
'BeReal': social media's next big thing?
Every day, new social media platforms appear, but most of the time, they fail to compete with the more popular, well-established platforms. Is this the next big thing?
Developed in France, BeReal is a new social media app that lets users share updates every day for 2 minutes. They must post in the moment, and if they miss the opportunity, they must wait until the next day. Its authenticity makes it stand out. You don't have the time to play around with effects or editing, all you need to do is capture a real-life snapshot of what you are doing and carry on with your day.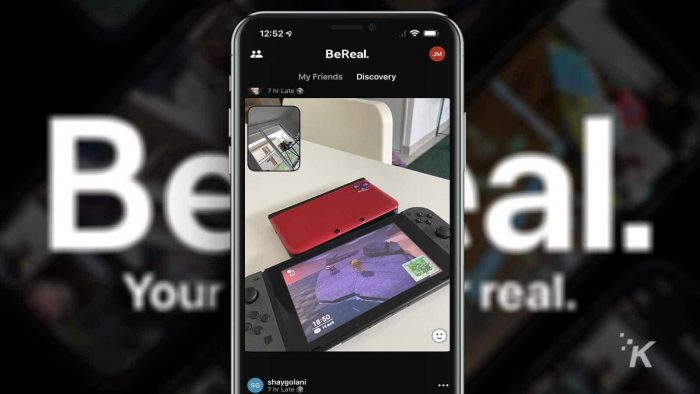 You've probably heard of Wordle unless you've been living under a rock. You have a 24-hour window to guess the word in six attempts. Many people have become addicted to it and it has become a part of their daily routine. In the same way that BeReal has authenticity and a sense of urgency, this game does as well. Is BeReal destined to achieve the same success?
The app is already gaining traction in Europe, so it will certainly be interesting to watch.
Growth for TikTok again
TikTok still tops all of the charts for most downloaded due to its addictive nature. However, the most fascinating statistic is the increase in consumer spending. Over the last three months, $840 million has been spent on tipping creators. TikTok users can tip creators in a variety of ways, from watching their LIVE streams to tipping specific videos they post. Afterwards, creators can use the TikTok currency (coins) to boost their own videos, tip other creators, or cash out.
Because users are spending their money on free content, this 'creator economy' is extremely powerful. TikTok currently yields the highest revenue compared to other platforms, so as a result, we expect more and more creators to gravitate towards it. Additionally, TikTok offers brands a better opportunity to engage creators through their campaigns.
On average, TikTok users spend 25.7 hours a month on the app, compared to 7.9 hours on Instagram. As such, if creators aren't swayed to move to TikTok based on revenue, they should certainly consider it for the increased chances of their content being seen (4x more).
Due to these factors, it comes as no surprise that TikTok is the 3rd most popular social media platform after Facebook and Instagram, and is projected to have a 25% share of the market.
Utilization of social media today
In a recent study, users were interviewed about their use of social media. Both TikTok and Reddit serve primarily as sources of funny or entertaining content. People tend to search Pinterest for brands and products, which can be useful to businesses looking to promote products or services on social media.
In order to investigate the value of hashtags, a study by Socialinsider used a sample size of 75 million posts. Instagram has reported they do not increase reach and appear to only be there to organize content and improve discovery. According to the study, there was very marginal difference in overall hashtag usage rate and performance. For smaller accounts , 5-6 hashtags seemed to be the most effective amount to use, but overall, 3-4 hashtags were the optimal amount. The content should be well researched and relevant in order to reach and engage the audience.
When it comes to when to post, creators are always advised to trust their own data as much as possible. When you have enough data, you can make your own judgements about your own audience. To get the best engagement on each platform, SproutSocial recommends some general posting times.
Facebook and Twitter: 9am-1pm Weekdays
Instagram: Monday 11am, Tuesday-Wednesday 10am-1pm, Thursday-Friday 10am-11am
LinkedIn: 7am-3pm Weekdays (Peak engagement on a Wednesday and Thursday)
Updated features and platform improvements:
Facebook
This month, Facebook CEO Mark Zuckerberg is focusing on monetization in the metaverse, specifically on artificial intelligence and community building.
Instagram
Instagram has been making changes aimed at creators. Sharing content that is a repost is downplayed, especially a TikTok as a reel, which is a big no-no. It is intended to encourage creators to create original content.
Support for Causes has been improved in the app, which will definitely help with fundraising events and activities that can be done directly from Instagram.
Stories insights have been improved. Now we have better insight into who is watching and participating in our stories, showing which accounts are reached and what percentage of viewers actually follow us.
A new hashtag page will be tested. In this case, we will only see the top hashtags and are less likely to see reused hashtags. This is in order to increase the use of original content, which is Instagram's biggest push at the moment.
Instagram loves Reels and wants everyone to use them. As a result, we are now seeing improvements in Reels editing, and barriers to video production are falling. One might even argue that editing a video on Instagram is easier than it is on TikTok at the moment.
In addition, we are seeing new monetization tools for Reels, so that creators will continue to use it- again, no surprise there.
LinkedIn
With LinkedIn's latest updates, you can now highlight links on your profile. There are also updated analytics tools for group posts, video trimming on mobile, and changes to the way newsletters are displayed.
Twitter
Twitter and Elon Musk are the talk of the town. Musk purchased Twitter for $44 Billion, breaking the internet. Even KFC has an opinion. In a tweet on their official page, KFC wrote: "To put things into context, Elon Musk could have bought 17,424,242,424 twister Wraps at £1.98 each or two large pizzas from Domino's."
No matter how you feel about the deal, it won't close until October this year and changes won't occur until 2023. Whatever happens, big changes are expected in the long run. We will have to wait and see what it means for the platform.
In addition to Elon, here are some other Twitter updates:
With some small changes, professional accounts are now available to all.
The idea of adding an 'edit' button to tweets has generated a lot of opinions, which is why it is still in discussion.
The last 18 months have seen big developments for Twitter Spaces, including new notifications. The notifications make it easier to participate in Twitter Spaces.
In conclusion, Twitter has launched a 'quick promote' option that simplifies advertising and is essentially a way to boost posts.
TikTok
TikTok now has GIFs! They're fun and we're curious to see what people do with them.
Now they've launched Effect House. Here's a way brands can get involved in augmented reality, and it's probably worth trying. TikTok keeps getting more interactive and less passive with every update.
Ads are more interactive now, with options like "swipe up" and "shop now" The company is also testing out search ads, where you can pay to be at the top of the search results, which will be interesting if it works.
YouTube
In order to look at searches across the platform, YouTube now provides channel analytics. YouTube now shows you the popularity of specific searches, as well as where there is a content gap (where searches outweigh what is available). This is a great opportunity for brands.
They are focusing on the 'Shorts' promotion to compete with TikTok. YouTube Shorts and Instagram Reels are different in that you can use Reels and TikToks in YouTube Shorts – so take advantage while it lasts.
Shorts now offers remixing. Now, we can build on other people's content to create our own. Take a snippet of the sound or a cut of the video that they use and embed it into your video.
There are others as well, such as Snapchat, WhatsApp, and Spotify
Currently, Snapchat is growing faster than any other social media platform. The majority of their audience is between 13-18 years old, but they are still gaining a lot of traction.
Snapchat now lets users add YouTube videos as stickers to their videos
With its upcoming launch of 'Communities,' WhatsApp will allow you to connect with people you know and the communities cannot be discovered publicly. Think of them as more formal WhatsApp groups.
Spotify now has video podcasts, but it will be interesting to see if people can transition from just listening to watching media on Spotify.
That's all for now, but be sure to subscribe to the O'Brien Media Insider blog for regular updates on social media and other marketing news. And as always, if you have any questions or need help with your social media strategy, don't hesitate to reach out!