Social media is one of the most effective ways to voice your opinion, grow a company or create an interactive audience. This can help you in many ways such as advertising a product or service to your desired target market. The limits its endless!
How do I start on social media?
First of all you need to pick the platform you are wanting to join and create an account. Once done add a bright colourful profile picture that stands out from the crowd. Your account should be visually pleasing straight to the point and let people know who you are from the moment they click on your account. Now lets get to your bio. Bio's should be short, simple and brief such as ⬇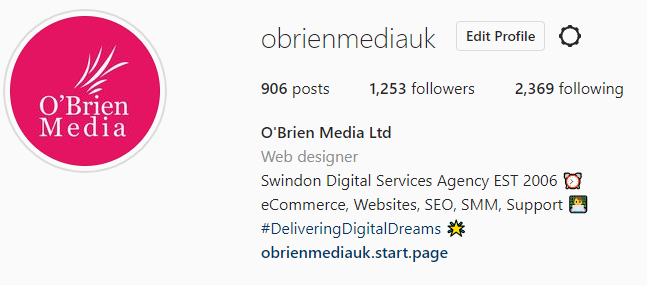 This lets the consumer know exactly who you are where your based and what they get out of following you.
How should I post on social media?
What should you post? First of all you need to decide your niche and what content you want to do. A niche is a genre of content such as Gaming, Vlogs, Pranks etc. Why is it important to stay in a niche? Most social media platforms look at your content and publish it to similar minded people. So say you post a comedy video then the next day you post a picture of a car. The social media platform will then push it to people with the same interest as your followers and people who interacted with your content. This can result in loss of interaction as its 2 different interests and this can confuse the algorithm and make it seem like you are just not pushing out as good of content.
This is why it's crucial to pick a niche and stick to it! Now we know how it works let's post your first picture! If your an influencer or an entertainer, you're going to want to post a lifestyle picture such as you outside a shop with bags in your hands with a bright vibrant background and good natural lighting. If you are a business you would want to post more graphic styled posts with big bold text and interesting illustrations.
Now lets get to the deal breaker… The caption!
This will either make or break your post as the more time the consumer stays on your post the more likely they will push out your content.
The caption needs to be:
Interesting
Factual
Funny
Motivational
It needs to hold some sort of value towards the consumer in order for them to interact with your content there for helping you grow your account even more.
When making a caption make sure you don't make it drag out and make sure you don't write a full on essay as no one will spend the time to read that and will just scroll off it. It needs to pull the consumer out of auto scrolling mode so you catch their attention which can lead them to checking out your profile and liking your other pieces of content.
How to grow your account.
Let's start growing your audience! First of all you need to make a strategy plan and set some goals you want to accomplish within a certain amount of time. If you are new to social media marketing and don't know about the types of strategies then I've got you covered. Just follow these steps and I will teach you how to grow your account with this simple marketing strategy using the platforms inbuilt features!
Let's get started! First of all you need to know when your account was created. If your account is relatively new then you will have up to 25 actions a day. If your account is a few months old you should have around 50 actions a day and if it is a year old it can have 100-250 actions per day. This is very important to keep in mind as you aren't wanting to get action blocked by Instagram as you cant interact with other peoples content till they remove it and it reduces account ranking.
Depending on how many actions you can do a day you want to use 1/3 of your actions to follow people if you have less than 50 actions. If you have 50+ actions use 1/2 of your actions following people and use the rest to like and comment on people's pictures and make quality interactions.
By using hashtags in your niche you can go to the recent posts in that hashtag and like some photos and leave a comment that has something to do with there post like "Loving the drawings keep up the good work. So amazing wow!" This will then make the person more likely to check you out in return than you just liking the photo and doing nothing more.
Sounds too complicated? Get in contact with us on the contact us page on our website and we can help you out and do it all for you when you purchase our social media package!